Last year, Sofie Clareese Fashion had one of the most popular patterns of the year.
The
Pleasant Day Sundress
makes a dress that looks just like Blaire's meet dress, and naturally it was very popular.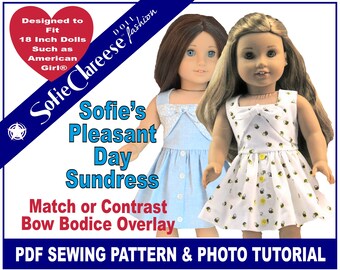 It looks cute with all kinds of fabric choices.
I keep drooling over this pattern, and lately I could not find it on Pixie Faire.
That really bugged me!
The
Sofie Clareese patterns
can now all be found on etsy.
I don't blame Sofie Clareese at all, as I understand that Pixie Faire takes a large amount of the pattern price for pattern makers to list there. I think it's as much as 40% of the price.
I hope that Sofie Clareese is doing well on etsy, and I am happy to know where t find her patterns.
I still want the Pleasant Day Sundress pattern, but for 18 inch and 14 inch dolls!
(I would love it if she packaged both pattern sizes together and knocked a dollar or two off the price.)
Check her etsy shop out! She has many other cute patterns for sale!